Diesel Exhaust Fluid (DEF)
Product Description
Packing:5 L/barrel、10 L/barrel、200 L/barrel, or customized according to customer's requirements。
Product Standard:GB 29518-2013
Appearance:Clear, colorless, odorless, transparent liquid and good in liquidity.
"Lutianhua" brand Diesel Exhaust Fluid (DEF) is a specialized additive for purification system (SCR)of diesel exhaust catalytic reduction. The principle is to convert the nitrogen oxides (NOx) in diesel exhaust emissions into the non-toxic harmless nitrogen gas and water by selective catalysis through adding the DEF into the SCR system of the diesel engine vehicles, thereby to reduce NOx emissions and to implement diesel exhaust emissions to specifications and improve urban air quality. The product is produced after purified by patent purification technology and mixed with high pure water by taking the high quality urea produced in the company as raw materials, low in biuret content. The main ingredient content (urea) is 31.8 to 33.2%. The product is suitable for the SCR system of diesel engine vehicles in European Ⅳ, China Ⅳ and Europe Ⅴ standards. The product is non-toxic, harmless, non- explosive and safe in transporting and storing.
"Lutianhua" brand diesel exhaust fluid conforms to technical requirements of GB 29518-2013.
Technical Parameters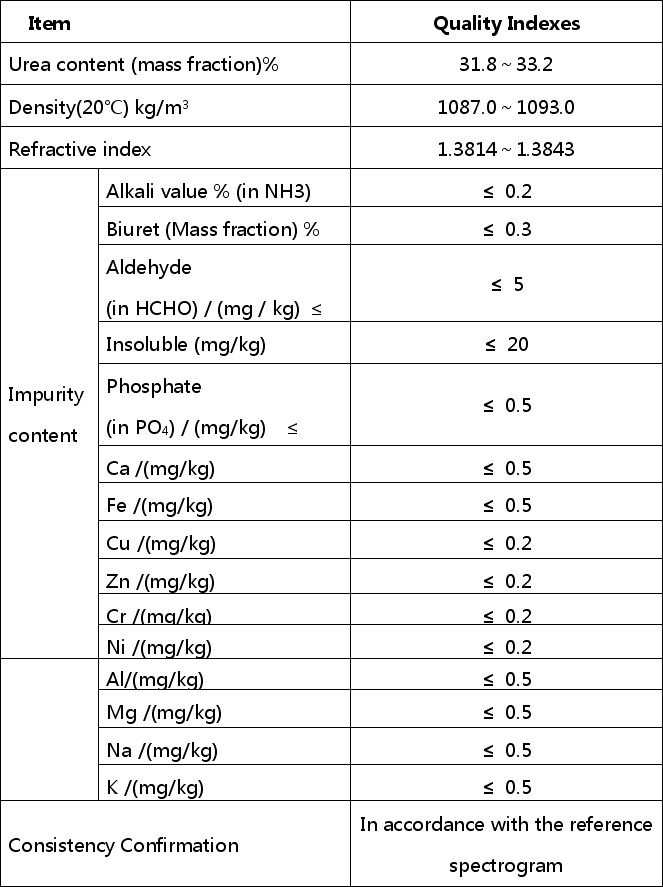 Product Performance
The product is a non-toxic chemicals, its density in 20 ℃ is 1.0870 ~ 1.0930 kg/m3, and its property is stable .
Direction for Application
The product is aqueous solution, before using, inject it into the specialized storage tank for diesel SCR system and then add into the SCR system through an on-board urea adding system. The product is not dangerous, it can be transported by road, railway, waterway, airway without any protection cautions.
Precautions
The product is a specialized additive of diesel exhaust of vehicles (in European Ⅳ, China Ⅳ and Europe Ⅴ) to make their emissions to the specifications. The product needs a special system for measuring addition.
The product shall be stored far away from the drinking water source and separated from strong oxidizer and edible chemicals. Storage environment shall be clean, dry and dust-free in temperature 0 ℃ ~ 35 ℃. The container shall be kept sealed and rinsed immediately with water in case of any leakage.
The storage container is made of additive-free materials of polyethylene, polypropylene, PTFE, etc.
There is no serious harm in case of contact with eye and skin. If contact with eyes, open the lower and upper eyelids and rinse with clean water. After contact with skin, rinse immediately with water.